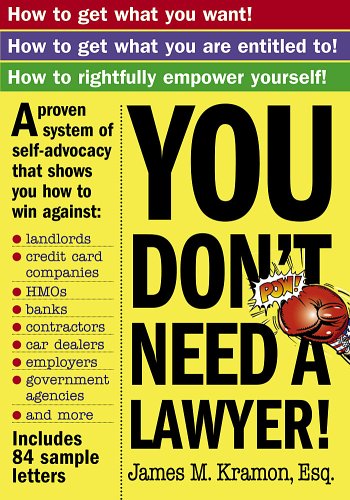 You Don't Need a Lawyer!
List Price:

$14.95

Our Price:

$4.99 USD

Qty Avail:

1
View Cart » Gift Add to Wishlist
Whether you have a problem with an airline, credit card company, HMO, the IRS - with anyone who no longer believes "the customer is always right" - this guide shows how to make a letter your own court of law, and how to get satisfaction without the time, expense, and hassle of litigation. Includes 84 sample letters. Each is based on real letters sent. Just change the pertinent details, mail, and prevail.
---
More info...
ISBN 13:

9780761140382

ISBN 10:

0761140387

Publisher:

Workman Publishing Company

Language:

English

Pages:

344

Size:

7.52" l x 5.24" w x 1.06" h