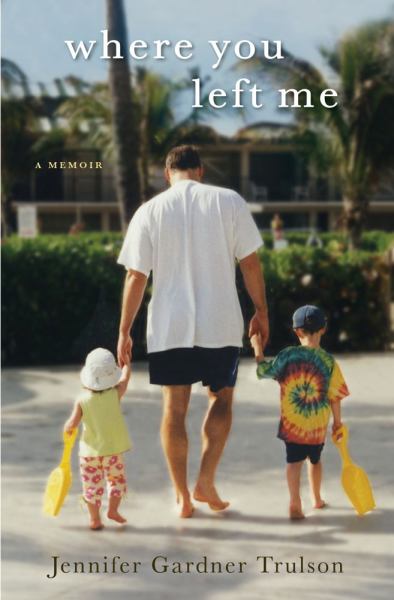 Where You Left Me
List Price:

$25.00

Our Price:

$5.49 USD

Qty Avail:

100+
View Cart » Gift Add to Wishlist
An extraordinarily powerful account of hardship and healing by a woman whose husband, a top executive at Cantor Fitzgerald, was killed in the attacks on the World Trade Center, and her unexpected journey to find love again.

When Jennifer's husband Doug, a senior executive at Cantor Fitzgerald, died in the North Tower on September 11, 2001, she resigned herself to widowhood—certain she'd raise their two young children alone. But one year after Doug's death, to her utter surprise and confusion, she met Derek Trulson, a handsome bachelor, at a Hamptons restaurant. Two great love stories in one, Between the Raindrops is the incredible tale of one woman's struggle to find the strength and peace to keep on living—and loving.

Jennifer's journey is both ordinary and extraordinary: A young woman utterly in love with her husband of six years, happily raising two children in their Central Park West apartment, suddenly finds herself alone. As she watches the North Tower fall on the news and feels her husband's normally strong presence leave her, she realizes that this is the end of her life as a wife—she's lost her romantic other half. Her husband Doug had loved her "enough for a lifetime," as she says at his funeral, and she is grateful for their time together, never expecting to find love again. But fate intervenes and introduces her to Derek Trulson, a strikingly handsome, refreshingly upfront man, and as their courtship unfolds slowly, Jennifer learns how to navigate Derek's relationships with her children, in-laws, and friends and rediscovers the happiness she'd lost.

Touching, poignant, and relatable, Between the Raindrops is one woman's courageous journey toward finding love again—and a message of hope for women everywhere.
---
More info...
ISBN 13:

9781451621426

ISBN 10:

1451621426

Publisher:

Gallery Books

Language:

English

Pages:

249

Size:

9.50" l x 6.50" w x 1.00" h