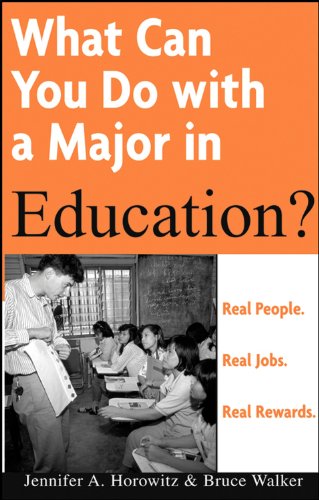 What Can You Do with a Major in Education?
List Price:

$12.99

Our Price:

$4.99 USD

Sale Price:

$4.24 USD

Qty Avail:

34
View Cart » Gift Add to Wishlist
Ready to proceed beyond lesson plans to a career plan? This book analyzes college curriculum and employment options for you! Whether you're considering majoring in education, have your degree and want to get a job, or want to change careers, this is your definitive guide to opportunities that capitalize on an education degree. It includes: Advice on college and curriculum choices - courses, internships, and more. Tips to energize and expand your job search. Profiles of real graduates, their jobs, and how they got them. Real-world input from an assistant principal, rabbi, curriculum designer, museum educator, tutoring center owner, and textbook author. Overviews of typical salary levels, hours, and work environments. Extensive additional resources, including Web sites, professional organizations, periodicals, and more.
---
More info...
ISBN 13:

9780764576072

ISBN 10:

0764576070

Publisher:

Wiley

Language:

English

Pages:

127

Size:

8.10" l x 5.20" w x 0.50" h