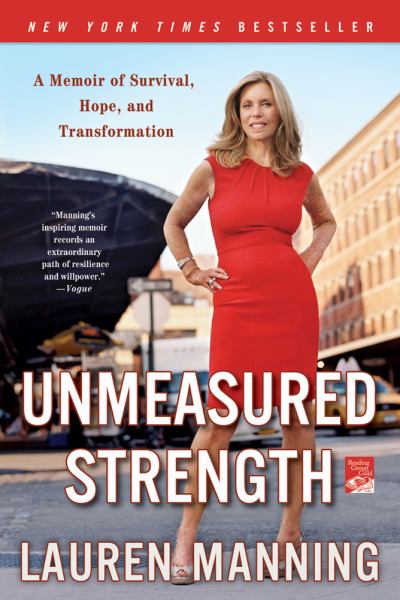 Unmeasured Strength
List Price:

$15.99

Our Price:

$4.99 USD

Qty Avail:

34
View Cart » Gift Add to Wishlist
"Manning's inspiring memoir records an extraordinary path of resilience and willpower." - Vogue

She was a hardworking business woman, had a loving husband and an infant son, and a confidence born of intelligence and beauty. But on 9/11, good fortune was no match for catastrophe. When a wall of flame at the World Trade Center burned more than 80% of her body, Lauren Manning began a ten-year journey of survival and rebirth that tested her almost beyond human endurance. On that terrible day, Manning possessed the strength to insist that she would not yield - not to the terrorists, not to the long odds, not to the bottomless pain. Over the years, she discovered that she needed to transform completely, and to embrace her life and her loved ones in an entirely new way.

Fleeing the burning tower, Manning promised herself that she would see her son's face again. Courageous and inspiring, Unmeasured Strength tells the riveting story of her heroic effort to make that miracle - and so many others - possible.
---
More info...
ISBN 13:

9781250012142

ISBN 10:

1250012147

Publisher:

St. Martin's Press

Language:

English

Pages:

252

Size:

8.58" l x 5.45" w x 0.78" h