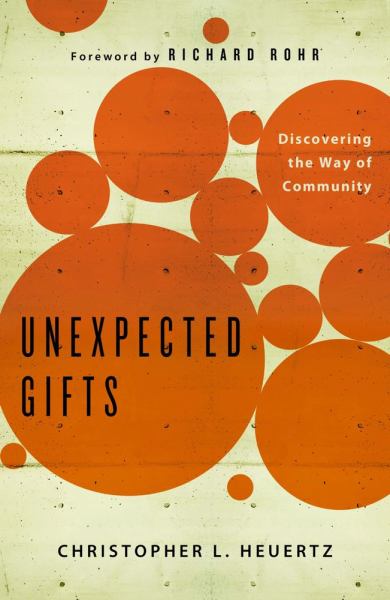 Unexpected Gifts
List Price:

$14.99

Our Price:

$4.99 USD

Qty Avail:

100+
View Cart » Gift Add to Wishlist
In a strikingly confessional tone and vividly illustrated through story, Unexpected Gifts names eleven inevitable challenges that all friendships, relationships, and communities experience if they stay together long enough. Rather than allowing these challenges to become excuses to leave, Chris Heuertz suggests that things like betrayal, transitions, failure, loss of identity, entitlement, and doubt may actually be invitations to stay. And if we stay, these challenges can become unexpected gifts.

Betrayal, failure, loss of identity, doubt. If your relationships have suffered from any of these pitfalls, this book will show you that staying together can create something more - even something beautiful.

In this heartfelt and thoughtful book, Christopher Heuertz writes of the dangers of isolation, the challenges we face when we join together, and the struggles and joys that emerge from genuine community bonding.

Whether readers are forming a new community, searching for deeper community, or participating in a longtime community, they will find inspiration, caution, guidance, and encouragement as they discover the beauty of pressing in to the ambiguities of growing relationships in this tender and honest testimony about how we are woven together by grace.
---
More info...
ISBN 13:

9781451652260

ISBN 10:

1451652267

Publisher:

Howard Books

Language:

English

Pages:

205

Size:

8.38" l x 5.50" w x 0.80" h