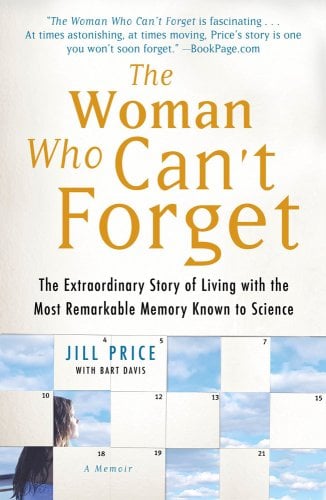 The Woman Who Can't Forget: The Extraordinary Story of Living with the Most Remarkable Memory Known to Science
List Price:

$17.99

Our Price:

$6.99 USD

Qty Avail:

47
View Cart » Gift Add to Wishlist
Jill Price has the first diagnosed case of a memory condition called "hyperthymestic syndrome" -- the continuous, automatic, autobiographical recall of every day of her life since she was fourteen. Give her any date from that year on, and she can almost instantly tell you what day of the week it was, what she did on that day, and any major world event or cultural happening that took place, as long as she heard about it that day. Her memories are like scenes from home movies, constantly playing in her head, backward and forward, through the years; not only does she make no effort to call her memories to mind, she cannot stop them.

The Woman Who Can't Forget is the beautifully written and moving story of Jill's quest to come to terms with her extraordinary memory, living with a condition that no one understood, including her, until the scientific team who studied her finally charted the extraordinary terrain of her abilities.

Would we want to remember so much more of our lives if we could? Which memories do our minds privilege over others? Do we truly relive the times we remember most vividly, feeling the emotions that coursed through us then? Why do we forget so much, and in what ways do the workings of memory tailor the reality of what's actually happened to us in our lives? In The Woman Who Can't Forget, Jill Price welcomes us into her remarkable life and takes us on a mind-opening voyage into what life would be like if we didn't forget -- a voyage after which no reader will think of the magical role of memory in our lives in the same way again.
---
More info...
ISBN 13:

9781416561774

ISBN 10:

1416561773

Publisher:

Free Press

Language:

English

Pages:

263

Size:

8.40" l x 5.50" w x 0.70" h