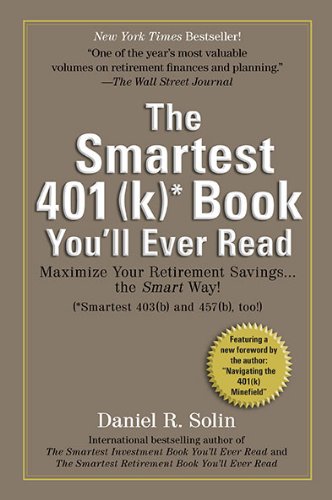 The Smartest 401(k) Book You'll Ever Read: Maximize Your Retirement Savings...the Smart Way!
List Price:

$13.95

Our Price:

$2.99 USD

Qty Avail:

1
View Cart » Gift Add to Wishlist
Internationally bestselling author and consumer advocate Dan Solin challenges some basic and misguided assumptions about traditional retirement plans to reveal that: 401(k) and 403(b) plans are laden with Porky Pig fees, poor investment choices, and conflicts of interest. You may be better off just saying "No!" There is a simple way to make smart choices in these plans - and this book shows you exactly what to do and which funds to avoid. There is one investment that could be the key to a successful retirement plan. You can do it yourself, with pre-tax or after-tax money. Create your own, inflation-proof pension plan that is guaranteed to provide you with monthly income for as long as you live, and beyond! Smart Investing is not complicated. You have the power to make meaningful changes to your retirement savings plan - no matter what your age or financial status.
---
More info...
ISBN 13:

9780399536083

ISBN 10:

0399536086

Publisher:

Perigee Books

Language:

English

Pages:

224

Size:

8.33" l x 5.42" w x 0.67" h