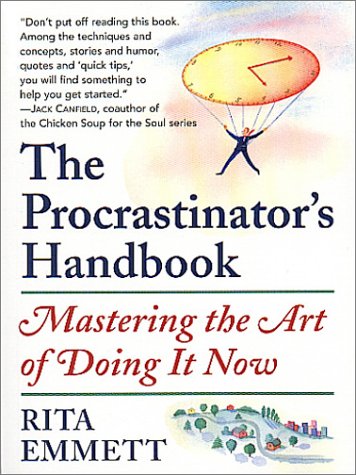 The Procrastinator's Handbook: Mastering the Art of Doing It Now
List Price:

$13.00

Our Price:

$2.99 USD

Qty Avail:

19
View Cart » Gift Add to Wishlist
Almost everyone procrastinates. For some the impact can be serious, causing damaged relationships at home and at work. For most people, though, procrastination is a frustrating or troublesome habit they know they should be able to overcome. Rita Emmett will inspire them to get started. With advice drawn from her own experience and that of people she has met at her acclaimed seminars, she empowers procrastinators to
-- identify the behavioral styles and patterns they use for putting things off
-- apply proven antiprocrastination tips and techniques for achieving goals
-- develop strategies to move forward when stuck or reverting to old procrastination patterns
-- design personal action plans

Changing a procrastination habit can have a profound effect on one's life. As a "recovering procrastinator", Rita Emmett knows firsthand how procrastinators think, the circumstances that trigger and sustain putting-off behavior, and what procrastinators need and want. Filled with useful advice and the real-life stories of people who have overcome procrastination, and written with a light and winning touch. The Procrastinator's Handbook is designed for use at home, at work, or while traveling. In Rita Emmett's hands, self-improvement is as entertaining as it is rewarding.
---
More info...
ISBN 13:

9780802775986

ISBN 10:

0802775985

Publisher:

Walker & Company

Language:

English

Pages:

224

Size:

7.21" l x 5.49" w x 0.71" h