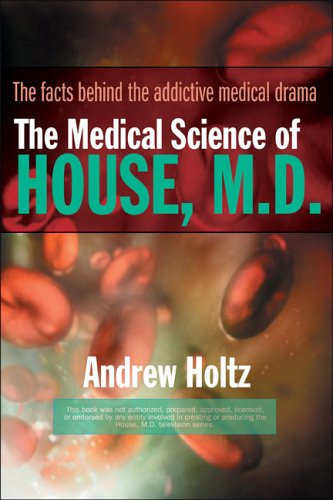 The Medical Science of House, M.D.
List Price:

$15.00

Our Price:

$4.99 USD

Qty Avail:

59
View Cart » Gift Add to Wishlist
The facts behind the addictive medical drama starring Golden Globe winner Hugh Laurie. Week after week, House, M.D. has held viewers' attention with brilliant cast performances and intriguing diagnostic mysteries often solved with daring treatments. But how much of the medical detail is real and how much is fabricated? In The Medical Science of House, M.D., Andrew Holtz, a well-known medical journalist, reveals how medical detectives work - how they follow symptoms to their source. He examines each case in detail and provides answers to such questions as: How can a teenager adopted at birth nearly die because his biological mother didn't get a vaccine? How can a husband's faith in his wife's fidelity determine whether radical treatment will cure her or kill her? How can a missed eye-doctor appointment reveal a genetic disease? How can doctors choose the right course for a pregnant woman when one may kill her and the other would abort her fetus?
---
More info...
ISBN 13:

9780425212301

ISBN 10:

0425212300

Publisher:

Berkley Publishing Group

Language:

English

Pages:

256

Size:

9.11" l x 5.94" w x 0.90" h