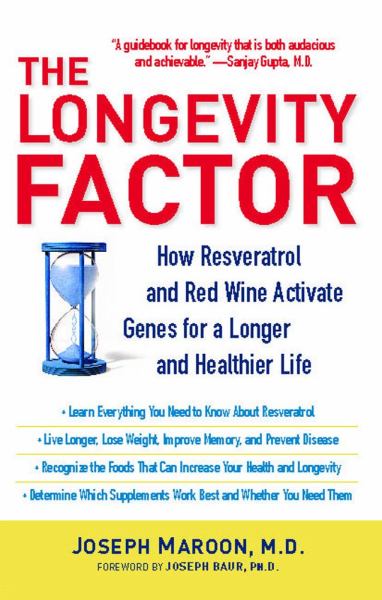 The Longevity Factor: How Resveratrol and Red Wine Activate Genes for a Longer and Healthier Life
List Price:

$15.00

Our Price:

$5.99 USD

Qty Avail:

45
View Cart » Gift Add to Wishlist
A groundbreaking examination of new scientific research that holds the secret to weight loss, increased strength, endurance, memory, and a healthier, longer life.
In The Longevity Factor, neuroscientist Joseph Maroon offers the definitive look at recent scientific breakthroughs that have identified a group of natural substances that can actually activate a specific set of genes in humans that promote a longer, healthier life. These substances, including the much publicized resveratrol - the molecule that makes red wine, dark chocolate, and green tea all good for us - appear to stave off a wide array of age-related diseases and keep us feeling young and vital. Resveratrol is the centerpiece of headlinemaking research being conducted by Dr. David Sinclair at Harvard Medical School. Only recently have scientists discovered how to isolate resveratrol and concentrate it into an affordable and safe supplement. In the last few months, more than 200 supplements featuring resveratrol have flooded the market, and countless more are on the way.
But which ones work best? What is a consumer to look for on the label? Can you get enough through diet alone? What is on the horizon from the pharmaceutical industry? All those questions and many more are answered in this immensely useful and prescriptive book. Joseph Maroon offers the first-ever look at the research that has led to the discovery of resveratrol and similar substances that have the miraculous ability to activate our longevity genes. He also offers his own diet plan and sound advice for living a longer, healthier, and more balanced life. The Longevity Factor promises to be the authoritative source for everyone who wants to learn how we can transform the current paradigm of aging.
---
More info...
ISBN 13:

9781416551089

ISBN 10:

1416551085

Publisher:

Atria Books

Language:

English

Pages:

352

Size:

8.75" l x 5.62" w x 1.10" h