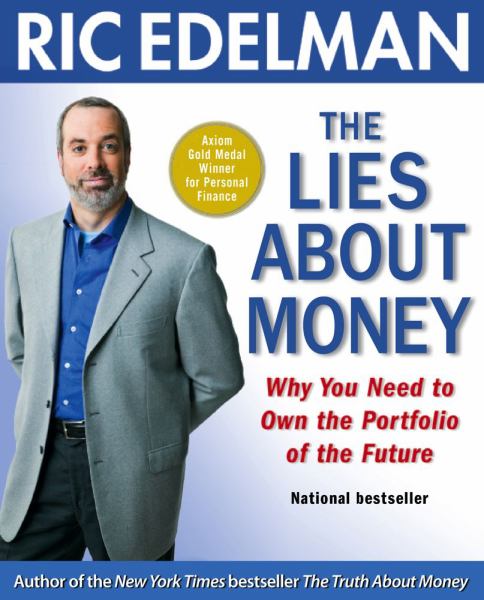 The Lies about Money
List Price:

$16.00

Our Price:

$5.99 USD

Qty Avail:

100+
View Cart » Gift Add to Wishlist
RIC EDELMAN has helped more people achieve financial success than any other practicing financial advisor. In 2007, Wealth Manager magazine listed his firm as the largest in terms of number of clients. Barron's four times named him among America's top 100 financial advisors in the country, and in 2004, Ric was inducted into the Financial Advisor Hall of Fame. His books have a million copies in print, including several foreign languages, and have topped the New York Times bestseller list. His national radio show, PBS television specials, syndicated newspaper column, and award-winning Web sites make him a house-hold name.

Consumers love Ric's unconventional yet common-sense approach to investing and personal finance. He revealed how everyday Americans achieve financial security in the #1 New York Times bestseller Ordinary People, Extraordinary Wealth. His first bestselling book, the personal financial classic The Truth About Money, was named Book of the Year. Now, Ric reveals the deceptive and manipulative business practices occurring in your retail mutual funds -- practices that are causing you to suffer higher fees, greater risks, and lower returns than you realize. In The Lies About Money, Ric's provocative new work, he offers you a detailed yet easy-to-follow plan that lets you take back control of your investments -- and your financial future.

Ric's unparalleled ability to explain complex financial concepts in a fun and entertaining way resonates with readers. In this book -- his first in more than five years -- he shares his most valuable lessons gained through two decades of working directly with individuals and families. He reveals the lies that have infiltrated your retail mutual funds and retirement accounts, and teaches you how to invest your money in your employer retirement plan, how to save for college, and for those who are retired, how to generate more income without sacrificing security. He shows you that proper money management has nothing to do with "hot tips" and everything to do with scientific analysis, bolstered by solid academic research and historical data. Ric explains exactly how the mutual fund scandal has caused him to change the way he manages his own money and the money entrusted to his firm by thousands of clients nationwide. Along the way, Ric shows you the secrets to investment success -- a long-term focus, the importance of diversification, and the crucial need for (and methods of) portfolio rebalancing.

And the book doesn't stop there -- it will actually help you build an investment portfolio, one designed specifically around your needs. The book features a 24-page color insert containing 43 portfolio models, each based on the Edelman Managed Asset Program, one of the largest and fastest-growing money management programs in the country. Ric's fun, interactive Guide to Portfolio Selection will lead you on a fascinating journey through the book's pages, taking you to the portfolio that's right for you!

With insight and strategies that will change people's lives, The Lies About Money offers the truth that everyone is looking for.
---
More info...
ISBN 13:

9781416543121

ISBN 10:

1416543120

Publisher:

Free Press

Language:

English

Pages:

316

Size:

9.12" l x 7.38" w x 0.90" h