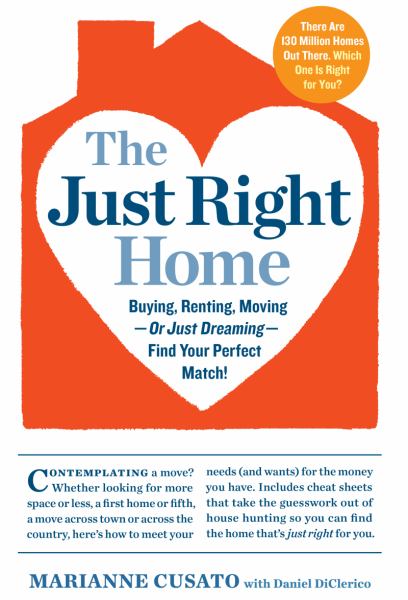 The Just Right Home: Buying, Renting, Moving--or Just Dreaming--Find Your Perfect Match!
List Price:

$12.95

Our Price:

$3.99 USD

Qty Avail:

100+
View Cart » Gift Add to Wishlist
Thirty-seven million Americans move during any given year. Millions more think about it. They all want the same thing - a perfect place to live. But most of us have only the vaguest idea of what makes us happy, home-wise, and don't even know all the questions to ask. That's where Marianne Cusato comes in. One of the most influential people in the home-building industry, designer of the Katrina Cottages, and go-to authority for the media on issues related to housing, she's written a comprehensive, interactive guide to finding the just right home.
By leading the reader through every step of choosing a home - from the broad strokes, such as city vs. suburb and buy vs. rent, to specific details of energy use and building materials - The Just Right Home helps readers understand not only what they want in a home but what they need. It shows why proximity - to work, to stores, to schools - trumps location, and what the difference means. Why a property's live-in value is greater than its resale value. How to identify and assess the big three variables: function, cost, delight. How to get a realistic grip on budget, including factoring in maintenance costs. How to plan for future needs - children moving out, a parent moving in, or just growing old in a home. Why all square feet are not created equal. The ins and outs of zonings, covenants, home-owner associations. The five elements to look for when walking through a property. How much to pay an inspector. And so much more.
---
More info...
ISBN 13:

9780761168911

ISBN 10:

0761168915

Publisher:

Workman Publishing Company

Language:

English

Pages:

372

Size:

9.00" l x 6.00" w x 1.00" h