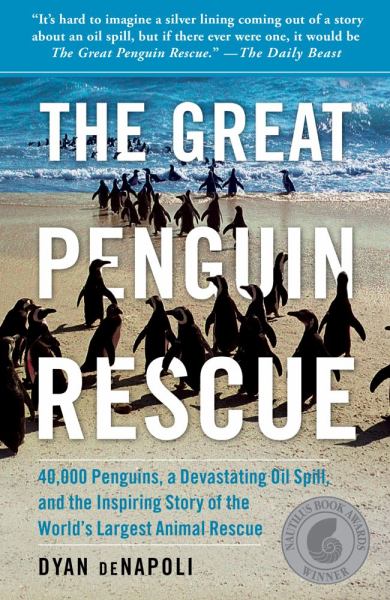 The Great Penguin Rescue: 40,000 Penguins, a Devasting Oil Spill, and the Inspiring Story of the World's Largest Animal Rescue
List Price:

$15.00

Our Price:

$4.99 USD

Qty Avail:

100+
View Cart » Gift Add to Wishlist
On June 23, 2000 the iron-ore carrier MV Treasure foundered off the coast of South Africa, spilling 1,300 tons of oil and contaminating the habitat of 75,000 penguins.

Local conservation officials launched a massive rescue operation, and 12,500 volunteers rushed to South Africa. Penguin expert deNapoli chronicles the landmark animal rescue operation undertaken when 41 percent of the world's population of African penguins was imperiled by a staggering oil spill. A rehabilitation supervisor during the initial phase of the three-month operation, deNapoli - better known as "The Penguin Lady" - and fellow volunteers de-oiled, nursed back to health, and released into the wild nearly all of the affected birds.

This is the extraordinary story of the world's largest, most successful live animal rescue to date. DeNapoli offers a riveting, heartwarming portrait of these captivating birds, a cautionary tale about the environment, and an inspirational chronicle of how following one's passions can lead to unexpected, rewarding adventures. The Great Penguin Rescue illustrates how people from around the world can unite for a greater purpose.
---
More info...
ISBN 13:

9781439148181

ISBN 10:

143914818X

Publisher:

Free Press

Language:

English

Pages:

307

Size:

8.44" l x 5.50" w x 1.10" h