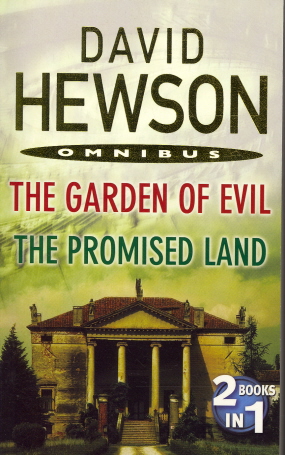 The Garden of Evil/The Promised Land (Omnibus)
List Price:

$13.00

Our Price:

$2.99 USD

Qty Avail:

28
View Cart » Gift Add to Wishlist
Two novels in one volume.
THE GARDEN OF EVIL: In a hidden studio in Rome an art expert from the Louvre is found dead in front of one of the most beautiful paintings Nic Costa has ever seen - an unknown Caravaggio masterpiece. But before long tragedy will strike Nic far closer to home. The main suspect remains untouchable, protected in his grand palazzo by a fleet of lawyers and a sinister cult known as the Ekstasists. The mystery of the cult will take Costa right back to Caravaggio himself and the reasons he had to flee Rome all those centuries before . . .
THE PROMISED LAND: One sunny day in July, Bierce's wife and their young son are savagely beaten to death. Bierce is convicted of their murders. Languishing on Death Row twenty-three years later, he still has no memory of the incident. Unexpectedly released just seconds before his execution, he teams up with the feisty Alice Loong, who guides him through the confusing new world of the twenty-first century. But it soon becomes clear that Alice is hiding dark secrets of her own. Pursued by mysterious enemies, the pair are forced into a dangerous race against time to uncover the truth about the events of that fateful day . . .
---
More info...
ISBN 13:

9780330545488

ISBN 10:

0330545485

Publisher:

Pan Macmillan Books

Language:

English

Pages:

361

Size:

7.00" l x 4.50" w x 1.50" h