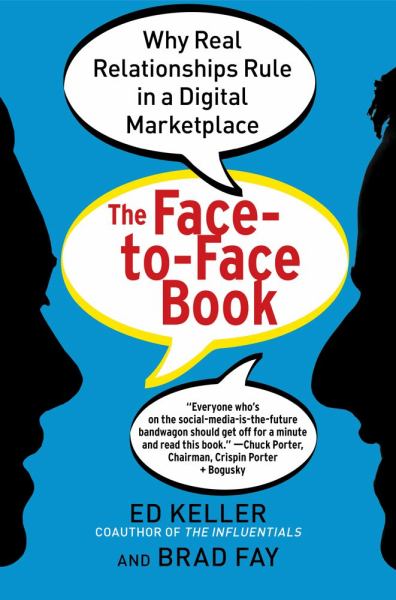 The Face-to-Face Book: Why Real Relationships Rule in a Digital Marketplace
List Price:

$26.00

Our Price:

$6.99 USD

Qty Avail:

15
View Cart » Gift Add to Wishlist
Marketing consultants Ed Keller and Brad Fay say social media is unleashing a new kind of frenzy. Blinded by the shiny allure of sites like Facebook and Twitter, companies are spending billions, pinning their hopes on social media marketing without appreciating how social influence truly functions in the marketplace. That's where Keller and Fay come in.

For the past six years, they have undertaken a unique, ongoing study of consumer conversations. The surprising result? Over 90 percent of consumer conversations still take place offline, primarily face to face. The implication is clear: Social media is big and growing, but it is dwarfed by the real world in which people live and interact.

Make no mistake. There is a hugely important social wave rolling across the world of business today. New scientific evidence reveals that we humans are fundamentally social beings for whom social influence determines nearly every decision we make. And the greatest impact comes when those conversations happen face to face, as emotions and nonverbal cues are communicated along with words.

In The Face-to-Face Book, Keller and Fay offer key insights and recommendations for how businesses, both large and small, can best succeed in today's socially motivated consumer marketplace by looking at how consumers act in real life as well as online. The authors share their extensive research and the stories of companies - large, such as Apple, General Mills, Kimberly-Clark, and Toyota, as well as innovative small businesses - that have hit pay dirt with a balanced and holistic approach to social marketing. They also discuss those that have bet big and lost by overcommitting to online social media alone.

The Face-to-Face Book does not overlook the extraordinary growth and importance of social media, which offers important new tools for businesses of all kinds; however, the authors caution against placing too grand a bet on online social media at the expense of other forms of social marketing.
---
More info...
ISBN 13:

9781451640069

ISBN 10:

1451640064

Publisher:

Free Press

Language:

English

Pages:

287

Size:

9.34" l x 6.36" w x 1.00" h