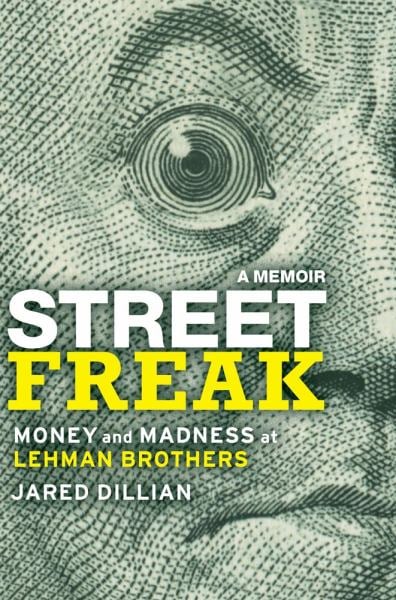 Street Freak: Money and Madness at Lehman Brothers
List Price:

$26.00

Our Price:

$4.99 USD

Qty Avail:

97
View Cart » Gift Add to Wishlist
A colorful account of the final years of Lehman Brothers, from 9/11 at their Ground Zero offices through the firm's bankruptcy, including vivid portraits of volatile workers, the financial meltdown, and the company's ultimate collapse—all while the author fought his own personal battle with mental illness.

Like Michael Lewis's Liar's Poker, the classic memoir of the Salomon Brothers' investment bank in the 1980s, Jared Dillian takes readers behind the scenes at Lehman Brothers, exposing its insane and often hilarious corporate culture.

As Lehman's head ETF trader, Dillian was an integral part of the firm in its final years—more than $1 trillion in wealth passed through his hands. But the exhilarating and explosively stressful job took its toll on Dillian, exacerbating the symptoms of his undiagnosed bipolar and obsessive compulsive disorders, leading to a downward spiral that landed him in a psychiatric ward. Dillian put his life back together, coming back to work healthier than ever before, but he soon realized that Lehman had gone mad, making outrageous bets on the real estate market and was quickly headed for self destruction.

Street Freak is a raw, visceral, and wholly original memoir of life inside the belly of the beast during the most tumultuous time in financial history. In his electrifying and fresh voice, Dillian takes readers on a wild ride through madness and back, both inside Lehman Brothers and himself.
---
More info...
ISBN 13:

9781439181263

ISBN 10:

1439181268

Publisher:

Touchstone Books

Language:

English

Pages:

356

Size:

9.50" l x 6.50" w x 1.50" h