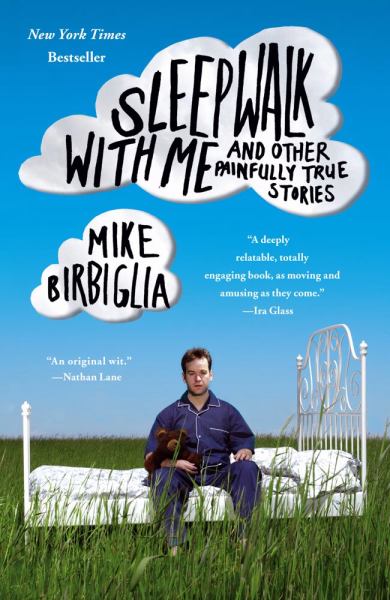 Sleepwalk with Me: And Other Painfully True Stories
List Price:

$14.00

Our Price:

$2.99 USD

Qty Avail:

100+
View Cart » Gift Add to Wishlist
Based on his sensational hit one-man show, comedian Mike Birbiglia's charming, laugh-out-loud funny memoir is a story about first love, denial, and the perils and pitfalls of being.
Despite growing up in seemingly normal circumstances - four kids, two parents, a middle-class home in the suburbs with summer camp and church - early on Mike Birbiglia recognized the hilarity of life. He discovered his talent for mini-golf and piggybacked on his brother's entrepreneurial genius in starting a golf-ball resale business from their backyard. He did chores for an older sister in return for pizza, while planning a career as a rapper, break dancer, and priest.
At the heart of Sleepwalk With Me is Mike's absurdly funny and frustrating battle with anxiety and insomnia, which results in hallucinatory fights with Brad Pitt, midnight visits from a jackal, and a fall from a second story hotel room in Walla Walla, Washington. In the tradition of David Sedaris's Me Talk Pretty One Day, this is a laugh-out-loud, often mortifyingly funny collection of stories, from the mundane to the sublime, and they are all beautifully told. Sleepwalk With Me is a window into Birbiglia's life - and will make you wonder how normal "normal" really is.
---
More info...
ISBN 13:

9781439158005

ISBN 10:

1439158002

Publisher:

Simon & Schuster

Language:

English

Pages:

191

Size:

8.46" l x 5.47" w x 0.59" h