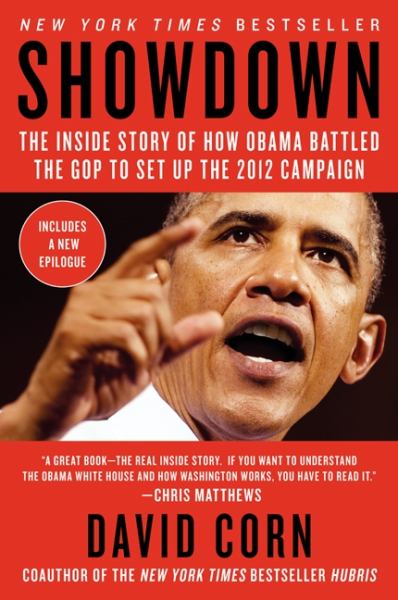 Showdown
List Price:

$15.99

Our Price:

$4.49 USD

Qty Avail:

1
View Cart » Gift Add to Wishlist
Heading into the 2012 campaign, Barack Obama was coming off of a period of bitter battles with an emboldened Republican opposition dedicated to impeding his presidency. These crises and fierce debates transformed Obama and profoundly shaped the terrain for what would be his last election.
Drawing on interviews with high-ranking White House officials, Obamas inner circle, members of Congress, and others, David Corn takes the reader into the Oval Office and the back rooms on Capitol Hill for a fast-paced and gripping account of the major clashes and events that defined Obamas presidency, including the controversial tax-cut deal with Congress, the repeal of Dont Ask/Dont Tell, the near shutdown of the government, the killing of Osama bin Laden, and the intense, high-wire debt-ceiling face-off.
A vivid and powerful account of White House decision making, Showdown offers a unique and enlightening look at the turbulent American political scene during one of the most consequential moments of the nations history, and explains the fascinating and complicated leader at the heart of this vortex.
---
More info...
ISBN 13:

9780062108005

ISBN 10:

006210800X

Publisher:

HarperCollins Publishers

Language:

English

Pages:

436

Size:

8.00" l x 5.30" w x 0.80" h