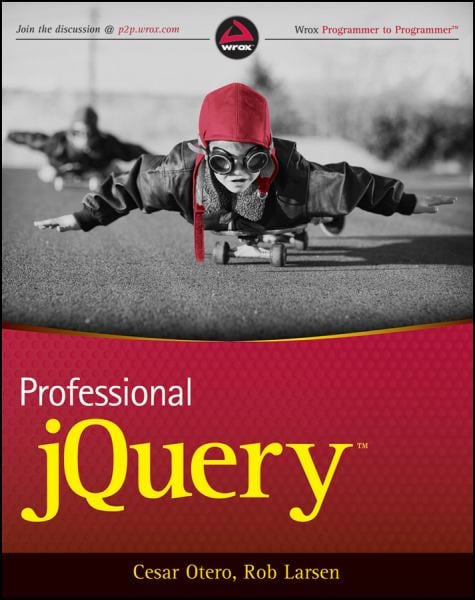 Professional jQuery
List Price:

$44.99

Our Price:

$19.99 USD

Qty Avail:

42
View Cart » Gift Add to Wishlist
Over the past several years JavaScript has undergone a remarkable transformation. It is now one of the most important programming languages in the world. With the ongoing importance of Ajax-based development and the rise of full-featured JavaScript libraries, most of the stigma around JavaScript has vanished. The most beginner-friendly library, jQuery, is responsible for most of this turnaround.nbsp;
jQuery is used at some of the largest organizations in the world, including Amazon, IBM, Twitter, NBC, Best Buy, and Dell. In 2011 there were three major releases in jQuery and the community surrounding it continues to grow. jQuery is prominently featured at the front end of Java/Spring, PHP, .NET, Ruby on Rails, and Python/Django stacks all over the Web. If you have experience with HTML, CSS, and JavaScript, this book is for you. It will expand your jQuery knowledge by focusing on the core library with the benefit of strong core JavaScript expertise in many of the lessons.
This book is aimed at three groups of readers:
Experienced server-side web application developers looking to move into the client-side using the world's most popular front-end library
Experienced JavaScript programmers looking to ramp up quickly on jQuery
Novice to intermediate jQuery developers looking to expand their jQuery knowledge into more advanced topics
This book is not aimed at beginners. For those looking to start with the basics of HTML, CSS, and JavaScript/jQuery development, Beginning JavaScript and CSS Development with jQuery (Wrox Programmer to Programmer) by Richard York will most likely help you more.
This book covers a lot of information about jQuery including a developer-level introduction as well as providing an in-depth look into some of the more advanced features. The book is divided into two parts, jQuery Fundamentals and Applied jQuery. jQuery Fundamentals introduces the core concepts while Applied jQuery focuses on more advanced subjects. nbsp;The first part of the book offers an in-depth introduction to jQuery fundamentals, which includes selecting elements, manipulating the DOM, and binding and reacting to browser books. After providing a solid foundation, the book will then outline more advanced topics such as plugin development, unit testing with JavaScript, and other advanced features of the library. The book also focuses on features available as of jQuery 1.7.1. but also tries to incorporate feature support in older versions of the library wherever it is relevant.
The first few chapters will help you set up a development environment and they also review important JavaScript concepts. Chapters 3-7 examine the jQuery core concepts. The second half of the book focuses on applying jQuery in the real world as well as detailing jQuery UI, plugin development, and templates among other lessons.
Part 1, jQuery Fundamentals, contains chapters 1-7. Chapter 1 sets up an environment for developing and debugging jQuery and JavaScript code. It also defines the code standards that will be used throughout the book. Chapter 2 goes through the basics of JavaScript programming language to strengthen the foundation that the rest of the book is built upon. Chapter 3 introduces the basic functions that make up the library and illuminates usages of the core jQuery functions. It also introduces many of the functions that you will need to perform varieties of tasks. Chapter 4 goes in-depth into one of the core features of jQuery, which is the ability to select and manipulate HTML elements. Chapter 5 introduces another feature of jQuery: the cross-browser ability to bind and manage browser events. Chapter 6 explores one of the biggest revolutions in web development in recent years--Ajax. Chapter 7 focuses on some of the shortcuts jQuery offers for animating components in your web applications. These include moving, fading, toggling, and resizing elements.
Part 2, Applied jQuery, contains chapters 8-14. Chapter 8 introduces jQuery UI, which is an associated user interface library for jQuery and contains things such as widgets, effects, animations, and interactions. Chapter 9 explores additional jQuery UI features including moving, sorting, resizing, and selection elements with a mouse. Chapter 10 teaches a variety of techniques, best practices, and patterns that you can apply to your code to immediately make it more efficient, maintainable, and clear. Chapter 11 focuses on the jQuery Template plugin. Templates are a standard way of marrying data and markup snippets. Chapter 12 focuses on authoring jQuery plugins. It is important to know how to extend the power of jQuery with custom methods as it is a fundamental skill for a top jQuery developer. Chapter 13 introduces the jQuery Deferred Object, which was introduced in version 1.5. It is a chainable utility object that provides control over the way callback functions are handled. Chapter 14 introduces the general concept of unit testing and goes into detail with the specific unit testing framework created by and used by the jQuery project itself, QUnit.
In order to use this book effectively, you will need one of the following web browsers to run the samples provided within the book:
Firefox 3.6, Current -1 Version
Internet Explorer 6+
Safari 5.0x
Opera current - 1 Version
Chrome Current - 1 Version
Cesar Otero is a freelance web developer. His technical interests include Python, Django, JavaScript, and jQuery. He sometimes contributes articles to IBM's developer works. He holds a degree in electrical engineering.
Rob Larsen has many years' experience as a front-end engineer and team leader. He has built websites and applications for some of the world's biggest brands. He is currently a Senior Specialist, Platform at Sapient Global markets. Rob is an active writer and speaker on web technology with a special focus on emerging standards like HTML5, CSS3, and JavaScript.
---
More info...
ISBN 13:

9781118026687

ISBN 10:

1118026683

Publisher:

Wrox Press

Language:

English

Pages:

315

Size:

9.31" l x 7.34" w x 0.63" h