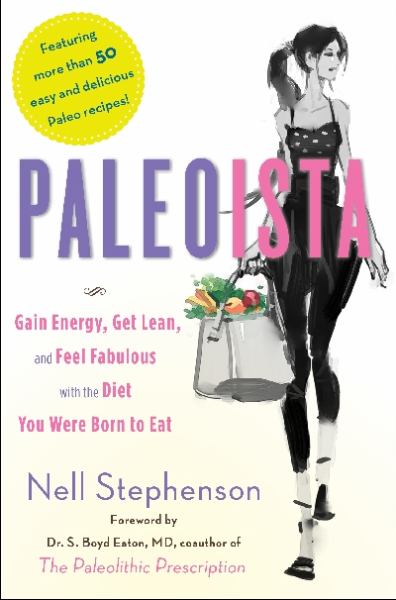 Paleoista: Gain Energy, Get Lean, and Feel Fabulous with the Diet You Were Born to Eat
List Price:

$23.00

Our Price:

$4.99 USD

Qty Avail:

2
View Cart » Gift Add to Wishlist
THE PALEO DIET grows out of the belief that we were intended to eat off the land: what walks on it, grows from it, or swims in its waters. It's about sticking to the kind of foods that human beings were born to ingest (fresh fruits and vegetables, seafood, lean meats, and natural fats), and excluding those that were developed later (grains, legumes, dairy products, salt, refined sugar, and processed oils).

But who, exactly, is a Paleoista? She is the embodiment of the modern day Paleo lifestyle. She's feminine, fit, and knows that eating Paleo will give her the boundless energy she needs to maintain her insanely busy lifestyle. As the ultimate Paleoista, Nell Stephenson knows exactly how to incorporate the Paleo diet into one's day-to-day life with ease, efficiency, and style. Paleoista is an easy-to-follow guide for any woman interested in reaching her healthiest potential and includes:

A Kitchen Makeover Guide, to get started on the right foot

A Healthy Grocery Store Field Trip, to stock a Paleo-friendly kitchen

Two Weekly "Hours in the Kitchen,"to prep a week's worth of meals ahead of time

A Move-to-Lose Plan, to show you what to do with all your extra energy

Sticking with It Socially, including how to order at restaurants, go to a party, travel, keep your kids Paleo, and get together with friends without compromising your Paleo eating plan

And More Than Fifty Simple, Delicious Paleo Recipes!
---
More info...
ISBN 13:

9781451662924

ISBN 10:

1451662920

Publisher:

Touchstone Books

Language:

English

Pages:

273

Size:

8.00" l x 5.50" w x 1.00" h