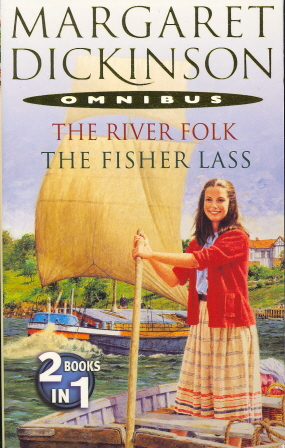 Omnibus: The River Folk/The Fisher Lass
List Price:

$12.65

Our Price:

$1.99 USD

Qty Avail:

1
View Cart » Gift Add to Wishlist
Two novels in one volume.
THE RIVER FOLK: For young Mary Ann, daughter of a wife-beating drunk, life has always been tough. That is until "Battling Bessie Ruddick" adopts her into her bustling family. As she grows into an attractive young woman, Mary Ann falls for Bessie's son, Dan, and she becomes a skipper's wife. But life aboard ship is not for her and only the arrival of daughter Lizzie keeps the marriage together. Yet, tragically, Mary Ann abandons the family, seduced by the promise of a happier life. It is now up to Lizzie to help her father, until, disturbingly, her life starts to follow the same pattern as her mother's . . .
THE FISHER LASS: Flame-haired Jeannie Buchanan has spent all her life n the shadow of the dark North Sea. Working with freezing fingers to gut the precious herring, she follows the fleet south, traveling far away from her Scottish home. When her beloved father's trawler goes missing, Jeannie must face up to life on her own. But her fiery temper and fierce independence attract powerful and devious enemies. Amidst the great social upheaval of the inter-war years, Jeannie must search again for the real love she has always denied herself . . .
---
More info...
ISBN 13:

9780330545440

ISBN 10:

0330545442

Publisher:

Pan Macmillan Books

Language:

English

Pages:

406

Size:

7.00" l x 4.50" w x 1.50" h