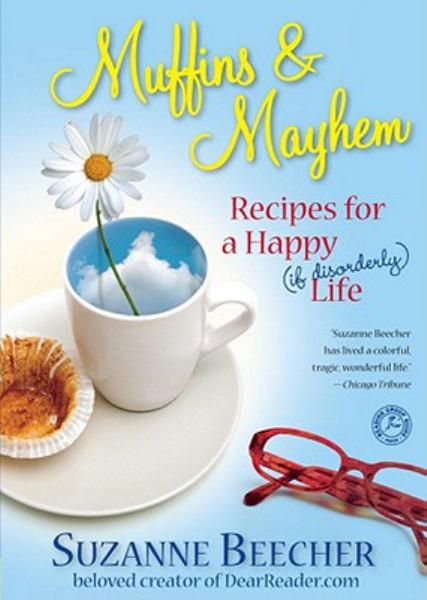 Muffins and Mayhem
List Price:

$16.99

Our Price:

$2.99 USD

Qty Avail:

66
View Cart » Gift Add to Wishlist
"While it's well known that food and stories make for a great combination, Muffins & Mayhem takes their relationship to a whole new level. Brimming over with the stuff of life, this is a book to curl up with and devour." —JOEL BEN IZZY, storyteller and author of The Beggar King and The Secret of Happiness
Suzanne Beecher's happy, loving voice has brought more than 350,000 people to her online book club at DearReader.com, where her daily column offers her candid, thought-provoking reflections on life, inspiring countless readers to look at their "ordinary" lives in a new way. By turns funny and poignant, Suzanne is the reassuring friend across the kitchen table with a refreshing, jaunty attitude about life, even in the face of whatever difficulties it may bring.
Suzanne has had her own share of troubles to overcome. Left home alone at an early age, she struggled with difficult and distant parents, dealt with heartbreak, became a hard-working single mom, and overcame two substance addictions and a physical impairment. But along the way, she found comfort in baking and sharing food with her friends and family. She learned to take the good with the bad, and her life is now inspiring proof that faith and persistence are the keys to success.
This beautifully written celebration of food, friends, and family will nourish Suzanne's numerous fans and those who have yet to discover her simple, homespun magic.
---
More info...
ISBN 13:

9781439112885

ISBN 10:

1439112886

Publisher:

Touchstone Books

Language:

English

Pages:

235

Size:

7.38" l x 5.25" w x 1.00" h