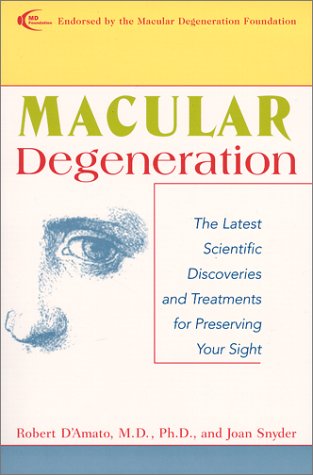 Macular Degeneration
List Price:

$14.95

Our Price:

$4.99 USD

Qty Avail:

1
View Cart » Gift Add to Wishlist
The macula -- an area the size of a pinhead in the center of the retina -- is responsible for central vision. Age-related macular degeneration (ARMD) is a progressive disease that can gradually destroy the macula and leave its victims legally blind or very nearly so.

Macular Degeneration is a comprehensive, highly informative analysis of the disease, its progression, and its consequences, which will inspire both those who suffer from ARMD and those close to them. Dr. Robert D'Amato, a nationally known ophthalmologist and pioneer in ARMD research, and writer Joan Snyder, an ARMD sufferer, have collaborated to explain in clear, understandable language
-- what ARMD is and how it is diagnosed
-- the medical treatments currently available and those on the horizon
-- the latest experimental treatment options and alternative therapies
-- coping strategies for living successfully with ARMD, based on advice from medical experts and from those with the disease.

ARMD affects more than eyesight -- it can undercut self-image and how one relates to the rest of the world. Produced in an easy-to-read format, this book will help readers improve their quality of life and manage the emotional and physical challenges of having ARMD.
---
More info...
ISBN 13:

9780802713599

ISBN 10:

0802713599

Publisher:

Walker & Company

Language:

English

Pages:

169

Size:

9.01" l x 6.12" w x 0.61" h