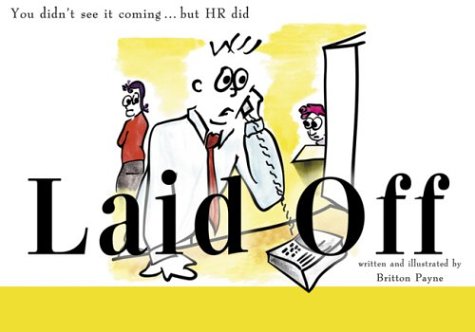 Laid Off
List Price:

$9.95

Our Price:

$2.99 USD

Qty Avail:

17
View Cart » Gift Add to Wishlist
Because sometimes you don't get to decide when to quit.
Did you just get a special invitation to the pink slip party? Have you been downsized, canned, let go, or do you know someone who has? Well, it happens to the best of us, especially recently, but that doesn't make it fun. Fortunately, there is help, and it's called "Laid Off" - here to remind you, or your newly redundant loved one, that the end of your regular paycheck is not the end of the line.
Now that you have all the time to read in the world, do yourself a favor and take in Laid Off's gentle words of wisdom. "Laid Off" knows how worthless and embittered you feel right now; "Laid Off" is also certain that you will work again, maybe even at something better. In that spirit, each page contains a line or two of touching narration and a colorful, humorous drawing that you might photocopy and hang on your fridge or in your temp cubicle.
"Laid Off" follows "Dumped" - for when things don't work out on Valentine's Day - as the next in Britton Payne's series of little books designed to make you feel a little better. And they do. When writing that next batch of cover letters seems impossible, spend a few moments with "Laid Off" and find your hope restored.

---
More info...
ISBN 13:

9781582343471

ISBN 10:

1582343470

Publisher:

Bloomsbury Publishing

Language:

English

Pages:

26

Size:

5.54" l x 7.82" w x 0.42" h