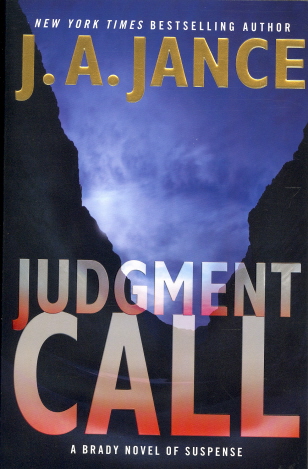 Judgment Call
List Price:

$18.99

Our Price:

$5.99 USD

Sale Price:

$5.09 USD

Qty Avail:

7
View Cart » Gift Add to Wishlist
When her daughter, Jenny, stumbles across the body of her high school principal, Cochise County Sheriff Joanna Brady's personal and professional worlds collide, forcing her to tread the difficult middle ground between being an officer of the law and a mother. Though investigating murders has always meant discovering unpleasant facts, the experienced Joanna isn't prepared for the knowledge she's about to uncover. The search for justice will lead to her own door, and will force her to face the possibility that her beloved daughter may be less perfect than she seems - especially when a photo from the crime scene ends up on Facebook. A photo only one person could have taken.

But the gruesome picture is just the tip of the iceberg as the social network leads Joanna to a hushed-up suspension, a group of teenagers with a grudge against the late Ms. Highsmith, and a hateful video calling for the principal's death. Could one of her daughter's classmates really be behind this terrible crime, or is there more to the murdered principal's past than meets the eye?

For Joanna, the line between justice and family has never been so blurred . . . and murder has never been so close to home.
---
More info...
ISBN 13:

9780062220721

ISBN 10:

0062220721

Publisher:

HarperCollins Publishers

Language:

English

Pages:

387

Size:

9.13" l x 6.13" w x 1.06" h