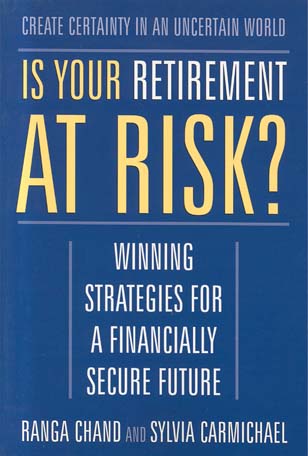 Is Your Retirement At Risk?
List Price:

$14.95

Our Price:

$3.99 USD

Qty Avail:

1
View Cart » Gift Add to Wishlist
The fastest growing segment of Canada's population is seniors over the age of 85. Living to the age of 100 is no longer as remarkable as it once was. But although we're living longer, few of us are planning financially for that eventuality. Many of us will find ourselves in the uncomfortable position of outliving our retirement savings. Others will find that they can't retire when they want to, working well into their senior years instead of enjoying the rewards of years of careful planning that have still fallen short of the mark. Can we avoid this bleak future? Yes, say noted mutual fund prognosticator Ranga Chand and co-author Sylvia Carmichael. In this wake-up call to Canadians, the authors help us: Ensure a sustainable retirement income given expanded lifespans. Develop a sound retirement plan. Grasp the effects of the bull and bear markets on retirement incomes. Deal with fluctuating income streams. Prosper from the coming boom in longevity-related industries.
---
More info...
ISBN 13:

9780773762817

ISBN 10:

0773762817

Publisher:

Stoddart

Language:

English

Pages:

177

Size:

9.00" l x 6.00" w x 0.50" h