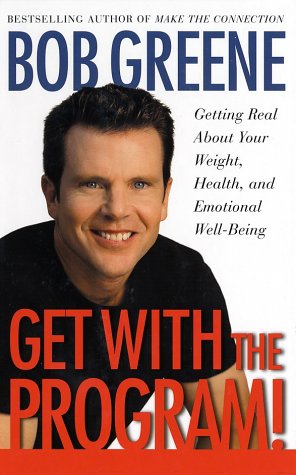 Get With the Program!
Author:

Greene, Bob

Binding:

Wire Coil/Wire Combination
List Price:

$24.00

Our Price:

$7.99 USD

Qty Avail:

2
View Cart » Gift Add to Wishlist
Bob Greene, bestselling author of Make the Connection, gives you the keys to losing weight and staying fit for a lifetime. The four-phase plan in Get with the Program! is like having your own personal trainer take you through the psychological, physical, and emotional challenges that are keeping you from weight-loss success. There are no arbitrary deadlines here: you move forward at your own pace, making lifestyle and dietary changes and increasing the intensity level of your exercise when it's right for you to do so. Journal entries, worksheets, and questionnaires let you establish, track, and evaluate your fitness goals. Get with the Program! is full of anecdotes and stories of women and men who met their personal goals, further helping to inspire you to move on to the next level of health and fitness.
---
More info...
ISBN 13:

9780743225991

ISBN 10:

0743225996

Publisher:

Simon & Schuster

Language:

English

Pages:

221

Size:

9.70" l x 6.96" w x 0.77" h