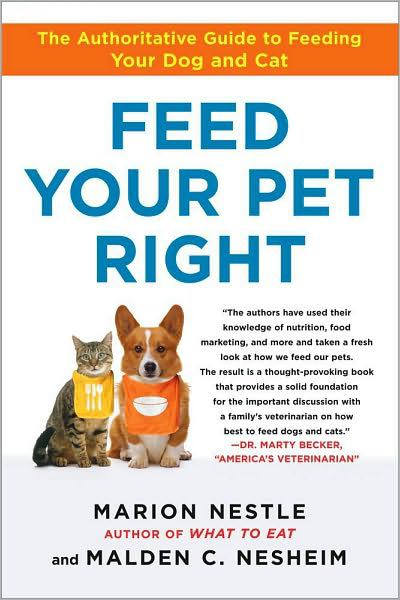 Feed Your Pet Right: The Authoritative Guide to Feeding Your Dog and Cat
List Price:

$16.99

Our Price:

$4.99 USD

Qty Avail:

100+
View Cart » Gift Add to Wishlist
Human nutrition expert and author of the critically acclaimed What to Eat, Marion Nestle, Ph.D., M.P.H., has joined forces with Malden C. Nesheim, Ph.D., a Cornell animal nutrition expert, to write Feed Your Pet Right, the first complete, research-based guide to selecting the best, most healthful foods for your cat or dog.
A comprehensive and objective look at the science behind pet food, it tells a fascinating story while evaluating the range of products available and examining the booming pet food industry and its marketing practices. Drs. Nestle and Nesheim also present the results of their unique research into this sometimes secretive industry. Through conversations with pet food manufacturers and firsthand observations, they reveal how some companies have refused to answer questions or permit visits.
The authors also analyze food products, basic ingredients, sources of ingredients, and the optimal ways to feed companion animals. In this engaging narrative, they explain how ethical considerations affect pet food research and product development, how pet foods are regulated, and how companies influence veterinary training and advice. They conclude with specific recommendations for pet owners, the pet food industry, and regulators. A road map to the most nutritious diets for cats and dogs, Feed Your Pet Right is sure to be a reference classic to which all pet owners will turn for years to come.
---
More info...
ISBN 13:

9781439166420

ISBN 10:

1439166420

Publisher:

Free Press

Language:

English

Pages:

376

Size:

9.09" l x 6.00" w x 0.93" h