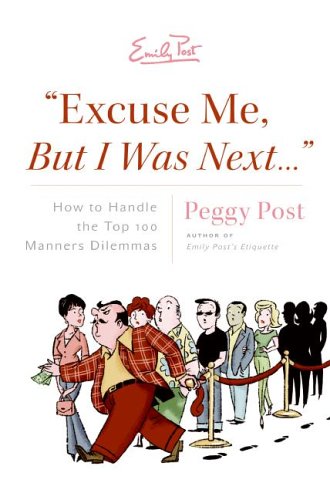 Excuse Me, But I Was Next...
List Price:

$19.95

Our Price:

$5.99 USD

Qty Avail:

3
View Cart » Gift Add to Wishlist
Have you ever been annoyed by cell phone yakkers, line cutters, or movie chatterers? Been confused about who pays at a restaurant? Received a gift you hated? Fumed over how to respond to a nosy question? America's etiquette expert Peggy Post comes to the rescue in this concise, readable handbook devoted to the top 100 etiquette issues everyone wonders about. You'll learn how to politely say "no" to difficult requests, how to introduce someone if you've forgotten his or her name, how to perform damage control for e-mail bloopers, and countless other strategies for handling life's awkward moments. In "Excuse Me, But I Was Next . . . ," Peggy Post distills the essence of etiquette for today's world into the perfect portable book.