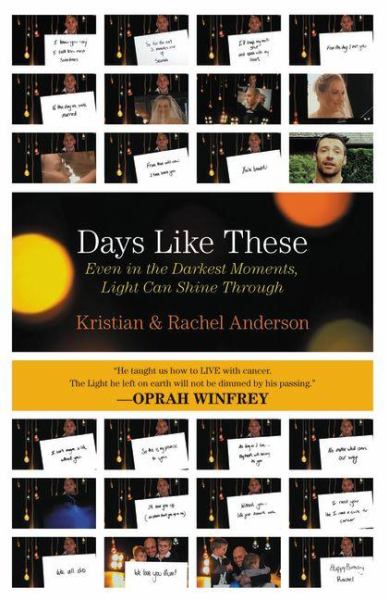 Days Like These
List Price:

$19.99

Our Price:

$5.99 USD

Qty Avail:

24
View Cart » Gift Add to Wishlist
There are love stories and then there's the story of Kristian and Rachel Anderson.
When Kristian wanted to show his wife, Rachel, how much he loved her after learning he was terminally ill, he ended up winning a million hearts around the world thanks to the now famous YouTube video he made for her 35th birthday.
Like Oprah, who invited Kristian and Rachel on her show, and Hugh Jackman, who helped make one of Kristian's dreams come true by appearing on the tribute, though millions that watched his appearances and videos didn't know him personally, they were so inspired by him they felt like they did.
He touched lives, gave hope, and left behind a precious legacy that will mean a longer and better quality of life for thousands of cancer sufferers.
His story, told in his own words from his blog entries, with additions from his beloved Rachel, will inspire others to know that even in their darkest moments, the light can shine through.
---
More info...
ISBN 13:

9780310325833

ISBN 10:

0310325838

Publisher:

Zondervan

Language:

English

Pages:

198

Size:

8.86" l x 5.79" w x 0.82" h