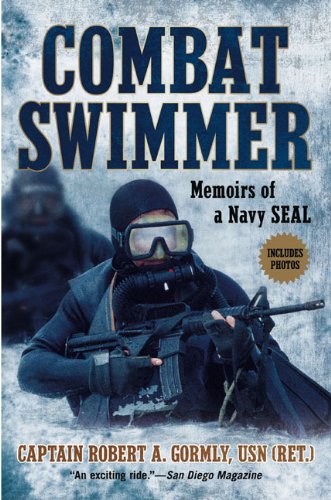 Combat Swimmer: Memoirs of a Navy SEAL
List Price:

$15.00

Our Price:

$5.99 USD

Qty Avail:

59
View Cart » Gift Add to Wishlist
A classic memoir of Navy SEALs in action.

In gripping prose, Captain Robert A. Gormly tells about his days as a leader in the Navy SEALs - taking readers into the night, into the water, and into battle on some of the most hair-raising missions ever assigned.

Trained to a fine fighting edge just in time for Vietnam, Gormly served two tours of duty and engaged in top-secret missions in the Persian Gulf. Here, he shares his viewpoint and his experience - including what is perhaps the most graphic description ever of SEAL action in the invasion of Grenada. Gormly takes readers behind the myth of this awesome team, revealing how their lives depend on their unprecedented expertise and unparalleled courage.


---
More info...
ISBN 13:

9780451230140

ISBN 10:

0451230140

Publisher:

New American Library

Language:

English

Pages:

302

Size:

9.05" l x 5.97" w x 0.79" h