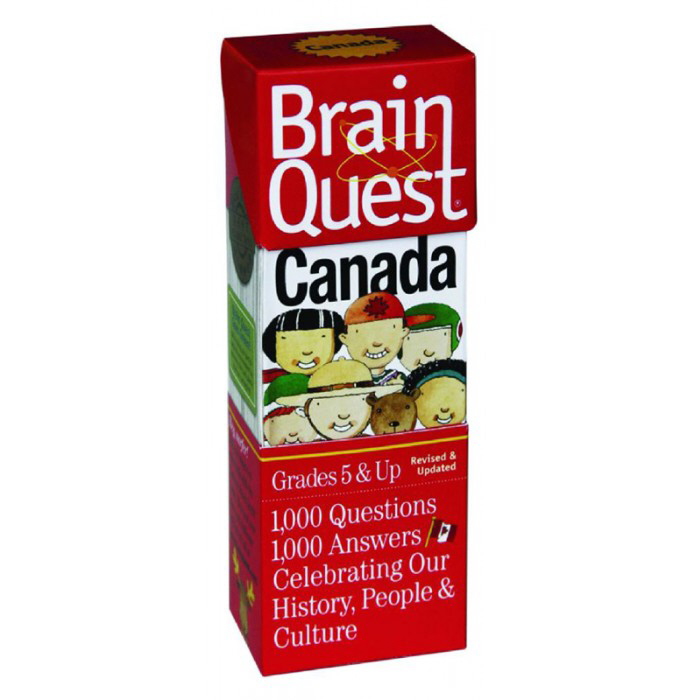 Brain Quest Canada (Grades 5 & Up, Revised & Updated)
List Price:

$14.95

Our Price:

$5.99 USD

Qty Avail:

65
View Cart » Gift Add to Wishlist
Who was our first prime minister?
What is Canada's smallest province?
When did O Canada become the official national anthem?
Is Medicine Hat a place or a person?
Three kinds of bears live in Canada. Which kind has a hump on its back?
Are Canada's Juno awards presented annually to actors, musicians, or authors?
If you're attending a "bonspiel". what sport are you watching?
In 1000 questions and answers through seven categories, Brain Quest Canada covers every aspect of Canadian history and culture from the First nations to Sidney Crosby, including Sasquatch, Horseshoe Falls, the Great Lakes, caribou and grizzlies, the Mounties and, of course, the Canadian Shield.

It's all about Canada, it's all about learning, and it's all about fun!!



---
More info...
ISBN 13:

9780761152477

ISBN 10:

0761152474

Publisher:

Workman Publishing Company

Language:

English

Size:

7.25" l x 2.50" w x 1.75" h