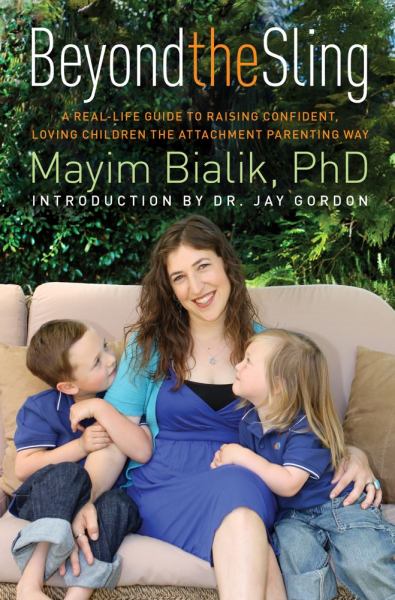 Beyond the Sling: A Real-Life Guide to Raising Confident, Loving Children the Attachment Parenting Way
List Price:

$23.99

Our Price:

$5.49 USD

Qty Avail:

9
View Cart » Gift Add to Wishlist
A funny, honest, and practical guide to attachment parenting from actress, mother, and neuroscientist Mayim Bialik.
When Mayim Bialik got pregnant, she did what most women in her position do—she read a lot of books and talked with other moms. Through her studies, she became a proponent of Attachment Parenting—a philosophy which espouses co-sleeping, baby wearing, extended nursing, and natural birth—which helped her forge a wonderful relationship with her two sons.
In Beyond the Sling, Bialik takes readers through the main stages of becoming a parent with chapters delineating the fundamental needs of a child: a smooth birth, sustenance, holding, nighttime parenting, and elimination needs. She then describes things our children may not need but popular culture has convinced us that we do: too much "stuff," unnecessary medical interventions, premature emphasis on academics, punishment as a form of discipline, and forced independence.
Bialik's honest and relatable perspective, her abundant anecdotal evidence, and her impressive research into child development and human attachment combine for a relatable portrait of a family learning to co-exist peacefully and lovingly. Beyond the Sling will inspire readers to trust their instincts and gain the confidence and know-how to be the best moms and dads they can.
---
More info...
ISBN 13:

9781451618006

ISBN 10:

145161800X

Publisher:

Touchstone Books

Language:

English

Pages:

258

Size:

9.50" l x 6.50" w x 1.00" h