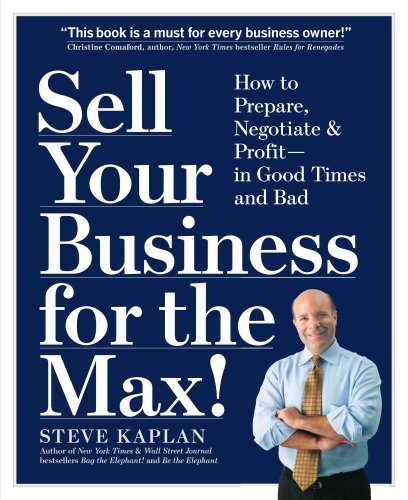 Sell Your Business for the Max!
List Price:

$22.95

Our Price:

$6.99 USD

Sale Price:

$4.89 USD

Qty Avail:

100+
View Cart » Gift Add to Wishlist
Exiting a business involves decisions that require a skill set completely alien to many business owners - not to mention the confusing documents; the need to bring in outside help; and, all that emotion. Are you really ready to sell? Should you pass your business on to your kids? Can you assess what is the real value of the blood, sweat, tears, and years you put into making your company successful? "Sell Your Business for the Max!" breaks the process down into three navigable stages: preparing for the sale (including valuing your business); negotiating the sale (including the due-diligence process); and, optimizing the outcome. Kaplan addresses every step in the selling process in easy-to-understand language and offers real life examples from his experience acquiring and selling over 100 companies.
---
More info...
ISBN 13:

9780761147848

ISBN 10:

0761147845

Publisher:

Workman Publishing Company

Language:

English

Pages:

193

Size:

10.90" l x 8.90" w x 0.90" h